Welcome Home...
Hazlett Lake is Red Deer's newest Residential Development
located on the west side of the City, in the northwest quadrant of the City adjacent to Highway 2 and in close proximity to Sylvan Lake, Blackfalds, Penhold and Lacombe.
The project is Red Deer's only residential Development located around a large natural lake, inclusive of a planned Municipal Park and a trail system, to be enjoyed by residents year round.
Lifestyle in Red Deer
The city is easy to get around and offers many of the amenities you would expect to have in Canada's larger cities.
It's a great place to raise a family, work, and play.
Nearby Schools
Red Deer has plenty of education options for you and your children. There are many schools within the City limits, and even more in nearby cities and towns.
Food & Entertainment
Red Deer is home to some of the best locally owned restaurants from upscale bar eats with craft cocktails, to top barbecue. Visit Gaetz Avenue for all your entertainment and shopping needs.
Parks & Recreation
With an assortment of facilities, multi-use trails and green spaces along with engaging local culture and art - there's an experience waiting for you.
Housing Styles
Hazlett Lake has been designed with a mix of residential, commercial, and recreational land uses. A variety of different housing types and lot sizes provide various residential options that reflect the home building industry's preferences, support residents' desire to change housing styles as their needs and lifestyles shift, and offer more affordable options to residents at a range of price points.
See Housing Styles
Lots For Sale
Hazlett Lake neighbourhood is envisioned as a primarily-residential neighbourhood with strong connections to the adjacent water body of the same name. This neighbourhood, hereafter referred to as "Hazlett Lake", will be the first development in the North of Highway 11A Major Area Structure Plan (MASP) area; as such, it will set the tone for all future developments in northwest Red Deer.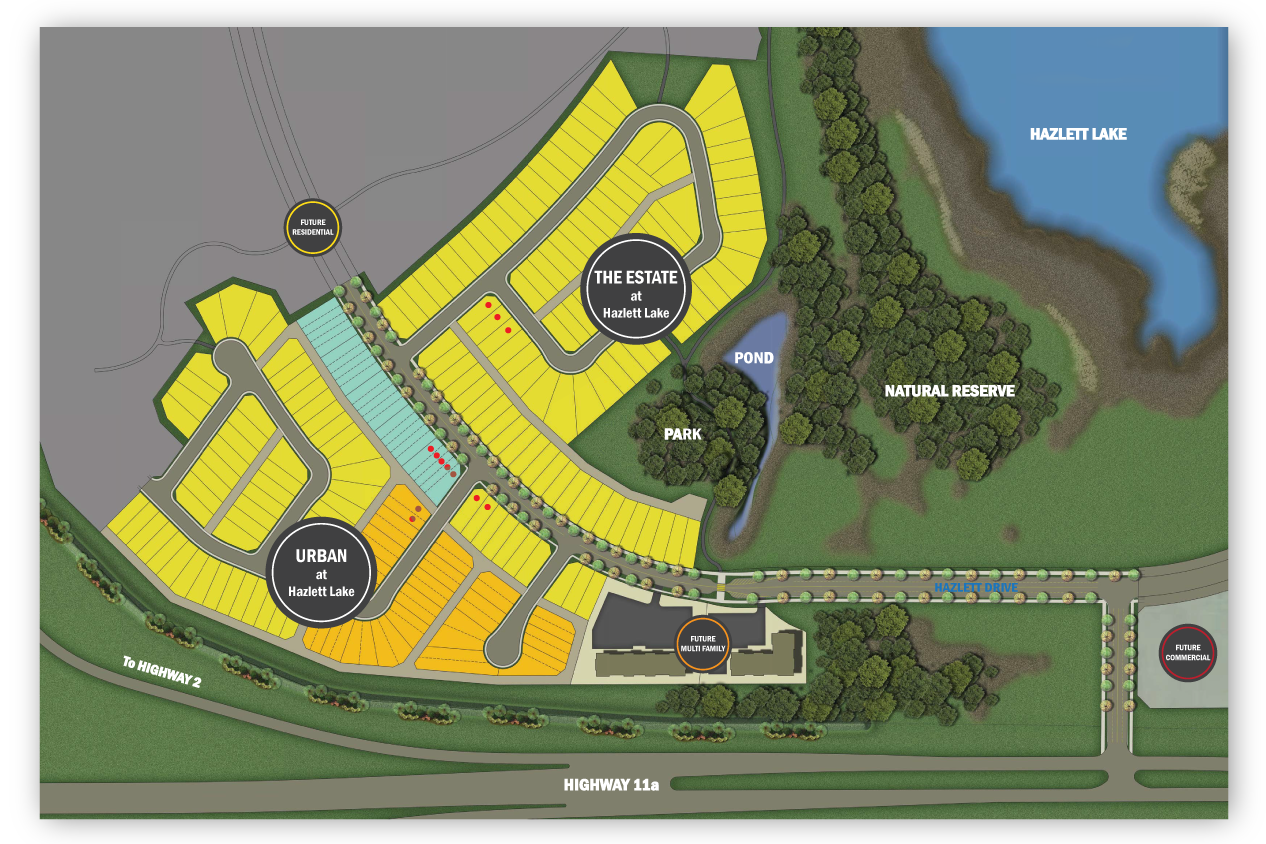 Stay Informed
Sign up to our mailing list and stay informed on community and development updates.
We promise, no spam – only email you will find relevant and important.